The Marians have recited this prayer since the time of approval of the Order upon the "Rule of the Ten Evangelical Virtues of the B.V.M." by Pope Innocent XII in 1699. Saint Stanislaus Papczynski, Founder of the Marians, was the first to make his solemn vows on this rule in Warsaw, on June 6, 1701.
This chaplet is a 10 bead Chaplet with a devotional medal of the Blessed Virgin Mary on one end and a Crucifix or Cross on the other.  Traditionally, the beads are black but can be any color.
To pray the Chaplet, begin with the Sign of the Cross, followed by an Our Father. Then on each of the 10 beads, pray one Hail Mary, adding after the words "Holy Mary, Mother of God…" one of the following virtues.
IN THE NAME OF THE FATHER, AND OF THE SON, AND THE HOLY SPIRIT. AMEN.
Our Father Who art in heaven…etc.
Then: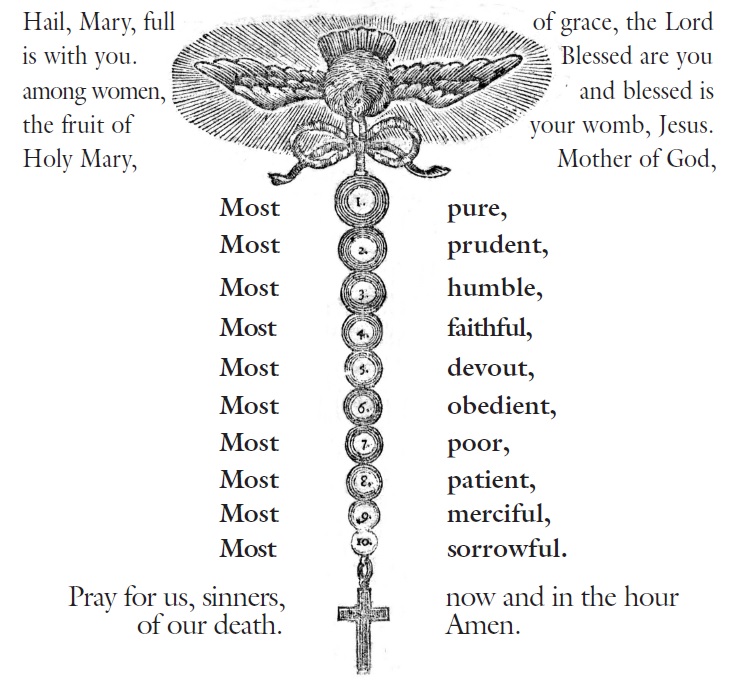 V. Glory be to the Father and to the Son and to the Holy Spirit:
R. As it was in the beginning, is now and will be forever. Amen.